v3372-815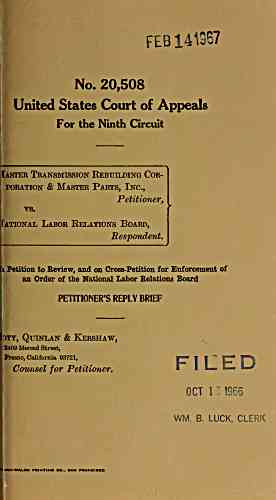 FEB 141967
No. 20,508
United States Court of Appeals
For the Ninth Circuit
lUSTER TRANSlnSSION REBUILDING COR-
PORATION & Master Parts, Inc.,
Petitioner,
vs.
ATioNAL Labor Relations Board,
Respondent.
I Petition to Review, and on Cross-Petition for Enforcement of
an Order of the National Labor Relations Board
PETITIONER'S REPLY BRIEF
OTT, QuiNLAN & KeRSHAW,
2409 Merced Street,
Fresno, CaUfomia 93721,
Counsel for Petitioner.
FILED
OCT i:i965
WM. B. LUCK, CLERK
lAU-WALSH PRiNTINQ CO.. SAN FRANCtSCO
---
archive.org Volume Name: govuscourtsca9briefs3372
Volume: http://archive.org/stream/govuscourtsca9briefs3372
Document Link: http://archive.org/stream/govuscourtsca9briefs3372#page/n814/mode/1up
Top Keywords (auto-generated):
union, employees, employer, majority, labor, examiner, section, february, nlrb, election, petition, bargain, respondent, status, rowland
Top Key Phrases (auto-generated):
unfair labor, majority status, anti union, respondent argues, labor relations, labor practices, national labor, labor practice, bernel foam, union petition, em ployees, authorization cards, universal camera, rights guaranteed, majority status.
Document Status: UGLY